sustainable fence service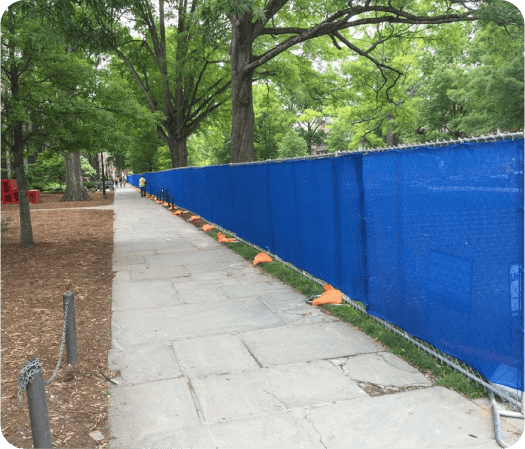 Specializing in temporary fence rental, dumpster rental, waste removal, storage containers, and mobile office trailers.
Construction Temporary Fence Rental
Regency Recycling's temporary fence rental service provides low-cost job site rentals for construction projects. Installed by qualified field professionals that can overcome practically any issue including uneven grounds or other complications. After installed, our team remains available for on-site changes, maintenance and repair to the temporary fence. We are the #1 provider of construction fence rental products for the 5 Boroughs and greater NY region. We're committed to serving our customers—contractors, builders, renovators, businesses, homeowners, parades, events, parties, festivals—with superb customer service. In conclusion we offer premier fencing products, and reliable installation. At Regency we always have two goals in mind: it must equip the site with protection and job-site security. Our rental fence panels are made from metal pipe made in the United States using light-weight, high-strength steel-metal. In addition, to top-grade rental panels, we offer many services and add-ons to enhance the look and use of our fencing. Windscreen or shade-cloth can help contribute a visual barrier into your job-site, and can even reduce particles and dust. If you decide to rent temporary fence on stands, we supply sandbags or our innovative rubber stands to place on the base.
Temporary fence is simple to install and disassemble, it is movable, and practical. There is no need to disturb the surface area by digging holes. Clamps with bolts are utilized to keep panels strong and metal stands are widely-used to keep panels upright. Your construction fence rental should be easy for the full length of the project.
Temporary fence requires little maintenance once installed and provides a definite and distinct obvious barrier between property lines and isolating distinct areas. Construction fence panels are widely-used often in building sites and in commercial areas because of their value, easy installation, and overall overall versatility to maneuver around.
Quick and Effective
Protection
Temporary panel secure fencing is employed to secure construction sites, private properties, major open public events, sports occasions, concerts, festivals, events, domestic housing sites, animal enclosures, and crowd control. -panel fences come in two sizes calculating 6′ in elevation and 12′ in width or 8′ in height and 10′ in thickness. Selection of widths provides you overall versatility after installation.
Durable, heavy duty steel construction
All hardware for connecting panels included
Heavy-duty T-stands for mounting fence panels
Expert installation by background screen techs
Easy add-on features for privacy and accessibility
6′ or 8′ Tall Panels
Sandbags
Privacy / Wind Screening
Equipment Gates
Personnel Gates
Post Driven Fence
Barricade Fence
Height 6′ or 8′
Width: 10′ or 12′
Gauge: 11.5′
Weight: About 70 lbs
Providing commercial collection services for thousands of customers and properties such as condominiums, town homes, apartment communities, office buildings, hotels, malls, schools and stores.