Remodeling your home is a great way to add value and improve its livability at the same time. The National Association of Home Builders' Remodeling Market Index shows that since the end of 2013 renovation activity has been high. This indicates that more people are taking on major projects, minor projects and general maintenance for their homes.
If you are one of the thousands of home owners that plan to renovate in the coming months, following the renovation rules below will make the entire process go smoother and significantly decrease the amount of stress that's involved.
Rule #1 – Always Create a Budget . . . With a Contingency
If you're using a contractor then the cost of the renovation will be clear before anything gets underway. But before you start taking bids it's best to put together a budget for your project. If you plan to take on the renovation yourself, a budget is absolutely necessary to keep the expenses from getting out of control. RemodelingCalculator.org has a number of calculators that can help you get a rough estimate of what the costs will be.
One thing that many people don't do when budgeting is add in an expense line for the contingency. A contingency is extra money that's factored in for unexpected expenses. No matter how well you plan and research the costs, there's a very good chance something will crop up or won't be accounted for. Factoring in a contingency of 10-20% will help to ensure you have enough to cover all the expenses and keep the project within budget.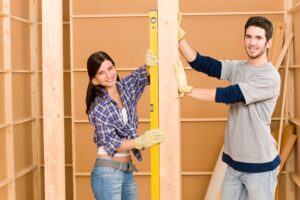 Rule #2 – Have Everything Planned Out & Decided Beforehand
It's easy for renovations to drag out much longer than expected because decisions have to be made during the process. To minimize cost and reduce the renovation time, put together a plan beforehand that includes both a timeline and a clear picture of what the renovation will include. The more decisions you can make about how things should look and function (the paint color, type of flooring, specific appliances that will go in, etc.) before the project the less delays there will be.
Rule #3 – Know What You Will Do With All the Waste Before the Project Starts
Even minor renovations can create a lot of trash and debris. These materials not only take up space at the construction site, they can also pose a safety risk. If you live in an HOA another consideration could be regulations regarding how renovation waste should be contained. Before your project begins you'll need to put a plan in place for containing the waste so it doesn't begin to pile up with nowhere to go.
For small projects you may be able to load the waste into the back of a truck, however you do have to be careful loading to avoid damaging the vehicle. Moderate to major renovations typically create many truckloads of waste, which is difficult to manage without a dumpster. Anyone can order a residential dumpster rental that is placed on the property, making it easy to keep waste contained. The dumpster rental company will pick the garbage container up when you're done and dispose of the trash, saving you time and money.
If you are about to begin a renovation project and need an affordable dumpster rental, Regency Recycling can help. We work with dumpster operators all over the country to make the rental process stress-free and reliable for homeowners. Use our online form to see rental estimates in your area!